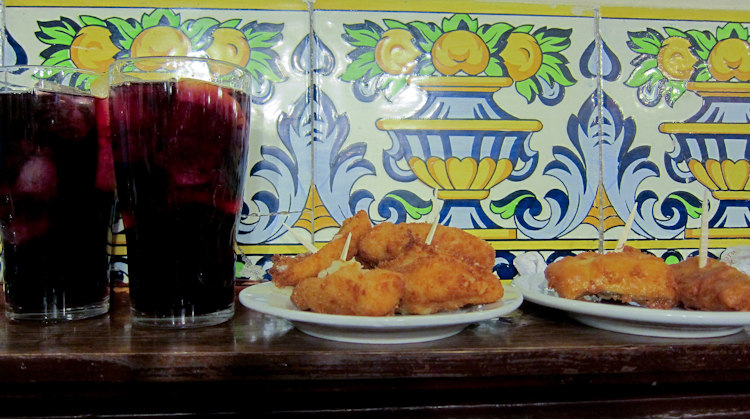 A Tapa is a small dish that is generally given for free when you order a drink at a bar, normally you don't have a choice; it can be anything from some potato chips or cheese, to paella or chicken wings. If you're lucky, when you order a new round of drinks the Tapa can vary if the bar has various dishes on offer.
The difference between Tapas & Raciones
For most madrileños having drinks and 'Tapas' or 'Raciones' is the best option for spending our quality time with friends and family.
Tapas: free bites of food that comes with your drink for free
Raciones: A few dishes that you can order in larger quantity for sharing
The typical moments for having tapas are at midday or mid-afternoon. At midday, around 12:00, when it's not yet time for lunch but we are hungry enough. In Spain we have lunch late, around 2pm or even 3pm.
At mid-afternoon you can start with some drinks and tapas and combine it with 'raciones' for a perfect, cheap and fulfilling dinner.
What is a typical dish for a Tapa
Tapas: A tapa can be whatever you can eat. But there are some things that are more usual than others, you can have for example chips or olives (the cheaper option for the bar owner) or paella, tortilla, jamon… In some restaurants, you can choose your tapa, but it is very unusual.
Raciones: There is plenty o different dishes that you can find for sharing, but here is a sample of what you will find in bar in Madrid:
Learn more about Spanish dishes in our extended post 'Delicious foods you should try in Madrid'.
Best areas for tapas in Madrid
The most popular areas for tapas in Madrid are La Latina, Chueca, El Barrio de las Letras and Lavapies. Each are has its own distinct personality:
La Latina: most of the bars are concentrated in La Cava Baja Street, there is a fantastic atmosphere until very late in the night.
Chueca: is the Gay district and a very trendy neighborhood, apart from its restaurants and bars, Chueca is one of the best places for alternative fashion shopping, many small shops show here their art in fashion, away from the big chain companies that we can find in the adjacent Gran Via.
El Barrio de Las Letras: owns its name to the Spanish Golden Age, when the best writers like Cervantes or Quevedo lived here and met in its bars for talks and discussions. Nowadays there are restaurants in every corner and the nightlife is great. Read more about things to see at Las Letras Neighborhood.
Lavapies:  is by far the most multi-ethnic place downtown, people from all over the world coexist here, Spanish, Chinese, Indians, Moroccans, Cubans… and this is of course represented in the gastronomy, smells and colors in their restaurants are as spicy as varied.
Other places to get Tapas in Madrid