Castillian Food
Madrid is a part of the historical region of 'Castilla', which contains the modern Madrid, but also provinces around like Segovia, Ávila, Toledo, Cuenca, Guadalajara, etc. We've been traditionally united, and we all share most of our culture, including of course the gastronomy.
Here we offer you a selection of foods you should try before leaving Madrid:
Calamari Sandwich
In Madrid we eat a lot off fish and seafood, and when I say "a lot" it is Realy a lot. Mercamadrid is a wholesale market that provides fresh products to Madrid, and the fish section is the second larger in the world, after Tokyo. In 2018 for instance they sold 172.012 tons. But enough about the market!
The squid can be cooked on many ways, but a very common dish to find in Spain are the deep fried butter squid rings, on a big plate for sharing (somehow similar to the onion rings that are common in the USA).
In Madrid, in many bars around Plaza Mayor, is a big tradition to have them on sandwiches.
Where to try it: La Campana This is where I go since I was little, with my parents. It's a very small place and always crowded, a good option is to get the sandwich to go.
Bacalao (Cod)
Cooked just like British do their "fish and chips", but in a small portion, as a 'tapa'. It is not a whole meal, just a snack to have with some drinks.
Saffron is added to the flower that gives a yellow color to it.
Where to try it: La Revuelta and Casa Labra are two famous places among locals, and they almost exclusively offer cod and cod croquets. They are both delicious.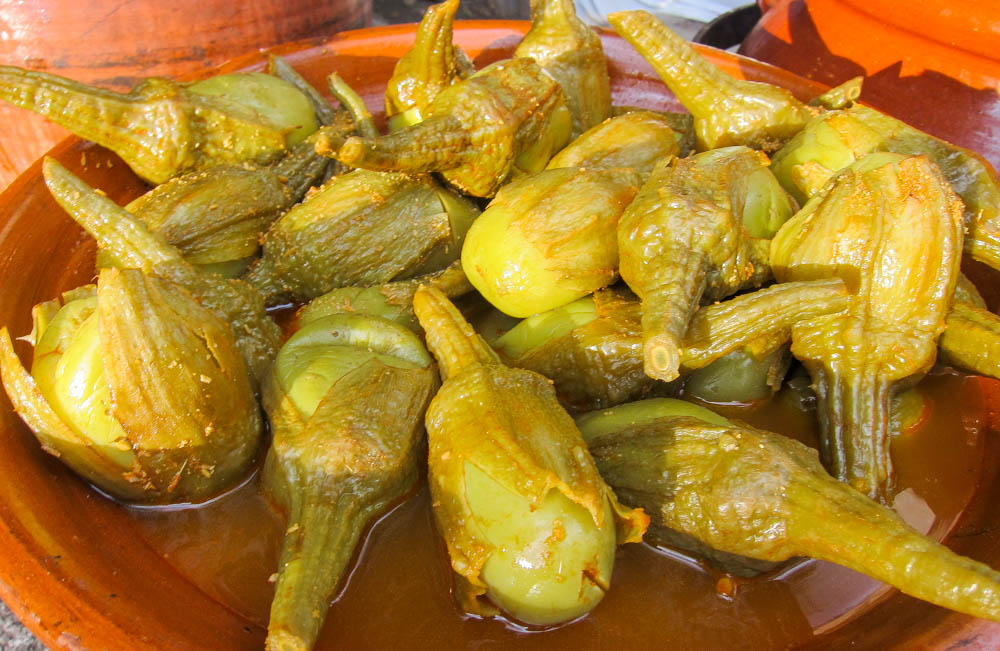 Camporreal Olives & Almagro Eggplants
Like in most of Spain, Olives and other pickled vegetables are a big thing in Madrid. They are a perfect match for a beer as a snack (tapa).Camporreal olives are grown in  a town in Madrid province, they are bright green and they have a unique seasoning.
Almagro is a town in Castilla la Mancha, they are famous for their pickled eggplants. They are collected a lot smaller than the 'normal' ones, and they are not purple, but green. The seasoning is mainly vinegar, garlic and paprika.
Where to try them: as a free tapa in some bars, and also in the San Miguel Market there is a stall exclusively for olives.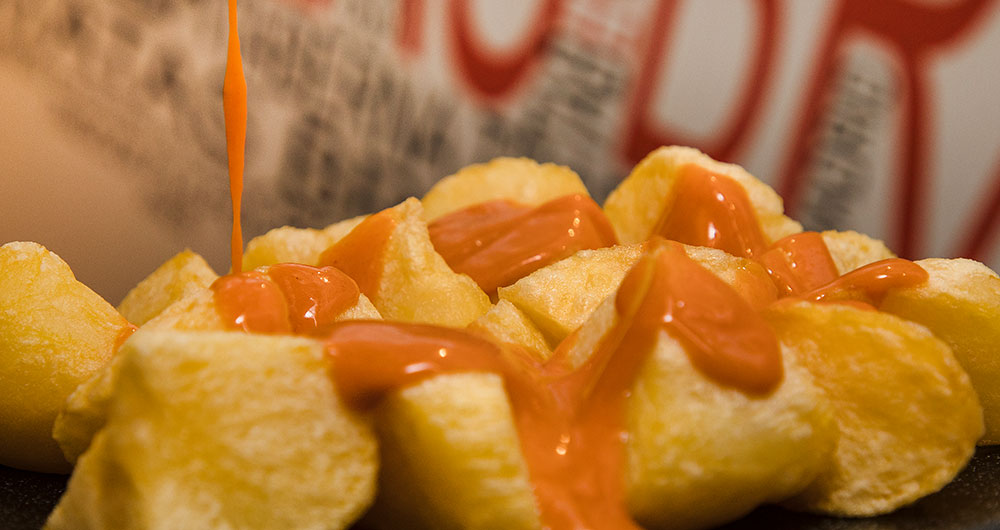 Patatas Bravas (Fried potatos)
Fried potatoes cut into cubes, with a slightly spicy tomato sauce. There is not so much more to talk about it, except that is a perfect combination with so many other tapas, and is also cheap.
You can try them in almost every bar in Spain.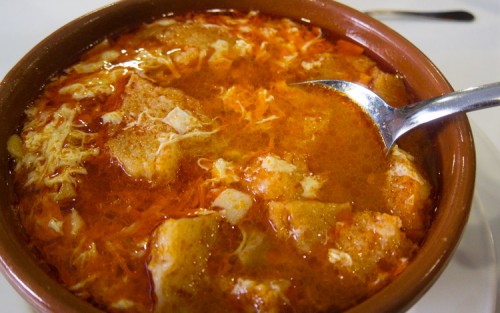 Sopa Castellana (Castilian soup)
This is my favourite soup ever. It is so tasty, the main flavors are garlic, jamon and paprika, But it also has poached egg and pieces of bread, that give the soup a very unique texture.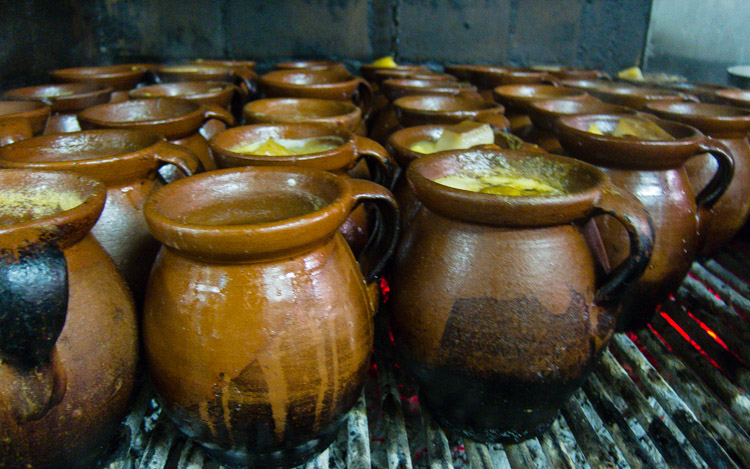 Cocido (Chickpeas stew)
Cocido is a 3 course 'wintertime' meal. Everything is cooked together, but you eat first the soup, then the chickpeas with the vegetables and finally the meets. Some people, like me, prefer to mixed together, even it that means 'breaking' the tradition.
Cocido is a variation of 'Adafina', that used to be typical for the Sephardic Jews, with a substantial change: Adafina has lamb and and Cocido has pork. Adafina used to be cooked in a clay pot on Fridays, with low hit during all night, so that it could be eaten on Sabbath, following the precept of not working. After the expulsion of the Jews in 1492 Adafina was still a popular dish even for Christians, and they changed the ingredients, adding pork to avoid `the suspicion' of being Jewish.
Cocido is a very filling dish, you would need to rest after having this meal. In fact in Spanish when someone look very tired we use this word as a funny synonymous of been tired: 'you are cocido'.
2 tasty, but also weird, dishes for the most adventurous foodies
These two plates are amazing for some and disgusting for others. Unfortunately, I love them, and my husband hate them, so I can't have them as much as I'd want to. Because this is not something that you will not eat just for yourself, it is a plate you share, usually in bars, not at home.
Callos
It's a stew of mainly beef tripes with chorizo and black pudding. The sauce of the stew is unique, you can't stop dipping your bread on it.
Where to try it: Bodegas Ricla and Casa Lucio