In the 16th century, Madrid became the capital of Spain. And the area that was once a path between orchards, would quickly become the most important neighborhood for literary arts, around the current Huertas street. Many of the great writers of the Golden Age of Spanish literature lived in this area: Cervantes, Lope de Vega, Quevedo, Góngora … Romantic Madrid also developed in its streets.
Huertas street
This street owes its name to the aforementioned garden area. Today it is the main street of this fantastic neighborhood, with a multitude of restaurants. It also offers us, on the ground, verses to read by great authors.
Jardín del Ángel
This place currently houses a beautiful florist that is more than a hundred years old. But its flowers were not always the same. During the Golden Age, this was the site of a cemetery. And it was in this cemetery that Lope de Vega, among other illustrious men, was buried.
Updated 2020: It closed its doors in 2019, but fortunately it will reopen, with other owners, in this year predictably.
Convent of the Trinitarians
The Trinitarian Order is a religious family for the redemption of captives, and this convent was founded in 1612. It has always been closely linked to the literary world that surrounded it, for example one of Lope's daughters, Sister Marcela, one of her poetry books 'To the divine' is still conserved there. A daughter of Cervantes, Sister Isabel, also professed here.
Miguel de Cervantes is buried in this convent, and with a plaque on the outside we can honor him.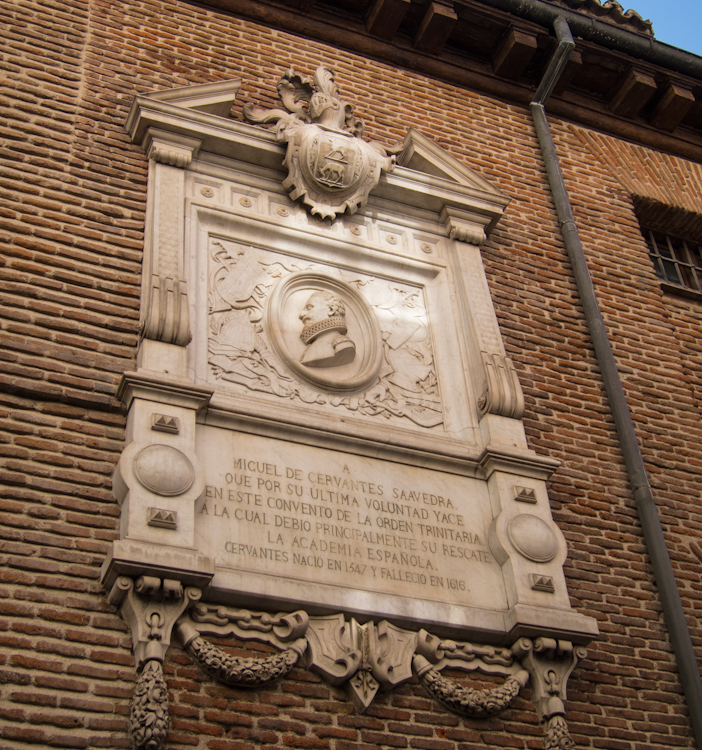 Famous writers who lived here: Cervantes, Lope, Góngora, Quevedo…
Cervantes and Lope de Vega were very antagonistic neighbors, but their disputes were different from the usual patio fights, they engaged in satirical or openly insulting verses. They had opposite personalities and different literary visions. Lope was the poet of the people, popular with women and successful in his performances; Cervantes, however, followed the classical norms, did not have great popular recognition and always experienced economic hardships. Curiously, Cervantes is buried in the convent in the current Lope de Vega Street and the House-Museum of Lope de Vega is in the current Cervantes street. Something similar happened with Quevedo and Góngora, they also exchanged unfriendly verses.
Museum of Lope de Vega
"Mi casilla, mi quietud, mi güertecillo y estudio" [Lope de Vega]
This beautiful museum recreates the house of the great playwright Lope de Vega Carpio. Visiting this house we will not only get to know the life of the famous writer better, but we will also enter a typical house from the 16th century. Website of the Lope de Vega House Museum.

Santa Ana Square
The Santa Ana Convent was located here. But it was destroyed by Joseph Bonaparte, Napoleon's brother, during the years of French occupation (1808-1813). He had many nicknames, one of them was 'The King of the little squares' due to the number of religious buildings he had demolished to create new squares like this one.
Today is an exceptional place to eat in many restaurants with terraces. We like for example 'Lateral', 'La Vinoteca' and 'Ana la Santa'.
Teatro Español
The Spanish Theater is located in Santa Ana square, it is here that the works of the great playwrights of the time premiered. But at the 16th century it was very different, it wasn't a building design to be a theater, it was a 'comedy corral', a building where people lived and had their livestock, and that every now and then was used as a Theater. The building we see now is the result of many years of evolution, with 'donations' from the kings of Spain.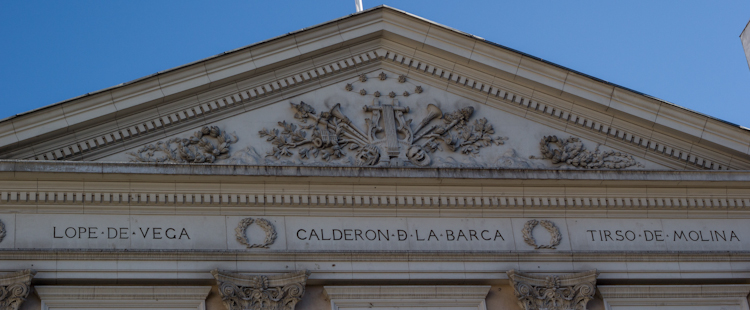 Prado Boulevard
The Las Letras neighborhood ends at the Prado Boulevard, which was just a meadow with a river until the 16th century. Here you can read about the many monuments that can be seen today in this beautiful area of Madrid. 🌳⛲️🌳
Letras neighborhood: Map with highlights

View Las Letras in a larger map