Madrid is beautiful wherever you look from. We have created a list with some of the best rooftops with views of the city. For drinks or tapas. Some of them are open all year, others only in summer.
Principal Hotel rooftop
Is one of my favourites, without so many people as in other rooftops. It has big tables and garden chairs and sunshades, as well as some olive trees.
Views to Calle Alcalá and Gran Via
Prices: sodas 6€, croquettes 10€
Hotel Vincci Via 66
Peering down on the Gran vía from here is a sight to behold! The last time we went here the bar was closed, but they still let us go to the top and peer down.
More information about the rooftop in Vincci Via 66
Jardín Secreto Salvador Bachiller
Located on calle Montera, you couldn't get more central if you tried! The decoration is fantastic. They have milkshakes, ice creams, tea, breakfast, tapas etc. Go to the top via the shop, among bags and suitcases.
Views of calle Montera (nothing special, to be honest).
Prices: Soft drinks €3 / ice-cream milkshakes €5
Círculo de Bellas Artes – Tartan Roof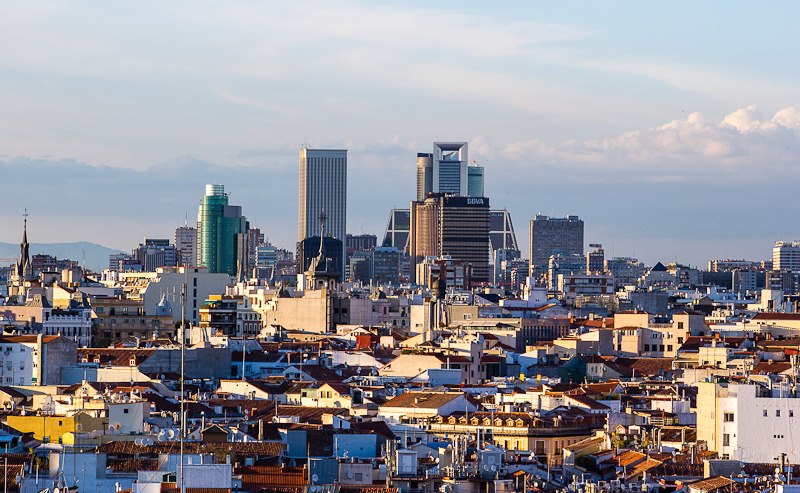 Undoubtedly my favourite views of Madrid, almost 360º. From East to West you can see from Pirulí to Ópera, from North to South from Cuatro Torres to the Cerro de los Ángeles.
It costs €4 to go to the top, whereupon you can have a drink or something to eat. The prices are high, with modern food with Asian inspiration.
On the same block, they've recently opened The Balcony, in Hotel Inside Madrid Suecia. Nice atmosphere, with swimming pool and spectacular views, but not quite as great as those from the Círculo.
More information about Círculo de Bellas Artes rooftop
Gourmet Experience Gran Vía
One of the most popular and with a bigger range of options, some restaurants with communal tables, you can go to the top to have a coffee, buy cold meats, sip cocktails…whatever you want! With affordable prices, you can have a look and decide for yourself if its worth it. Go up from the Corte Inglés in Callao.
More information about the Gourmet Experience rooftop
Room Mate Oscar
A classic in Chueca's nightlife, a place to chill out with pool, mattresses and, most importantly, a wonderful breeze in summertime. You can see the Círculo de Bellas Artes, the Telefónica building, Plaza España…
More information about the Oscar rooftop
Terraza del Urban
By day, the hotel guests like to use its solarium, but it's also open to the general public. They serve cocktails and tapas, and are more exclusive than other terraces.
Views: Rooftops of the Barrio de las Letras
Prices: Soft drink €6
La Cocina de San Antón
The San Antón market has become a must-see. On the top floor you can find an open-air restaurant. You can buy foods in the market and then have them cooked for you. They also have a menú del día (set menu), which is a good thing as the other prices are rather high.
Views of the rooftops of Chueca
Prices: jamón ibérico de bellota pizza €15
El Viajero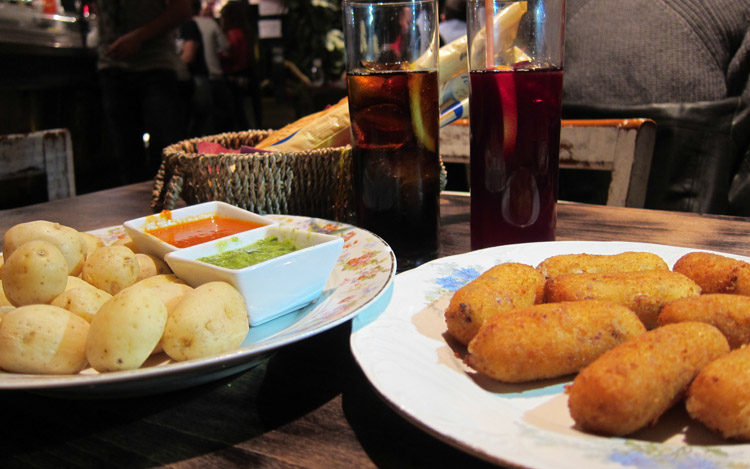 A classic in la Latina for going for tapas or for drinks. The food is nothing special but as a place to start the night in la Latina it's very good.
Views of San Francisco el Grande.
Prices: Croquettes €8.50, Tiramisu €5
Terrazas del Thyssen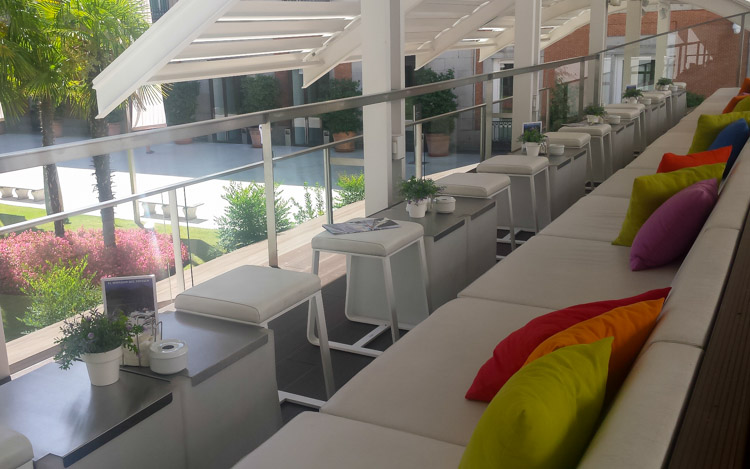 A cheerful way to enjoy the Paseo del Arte. Thyssen-Bornemitzza Museum is free on Mondays, so from the money you save you can have a drink in this terrace, which isn't cheap but has a lot of style.
Views of the Paseo del Prado
Prices: Natural orange juice €5.50 / pincho de tortilla (omelette sandwich) €4.50
The Hat
A very modern terrace right by the Plaza Mayor.
Views of the rooftops and domes of the Madrid de los Austrias.
Prices: pincho de tortilla €4
Café del Río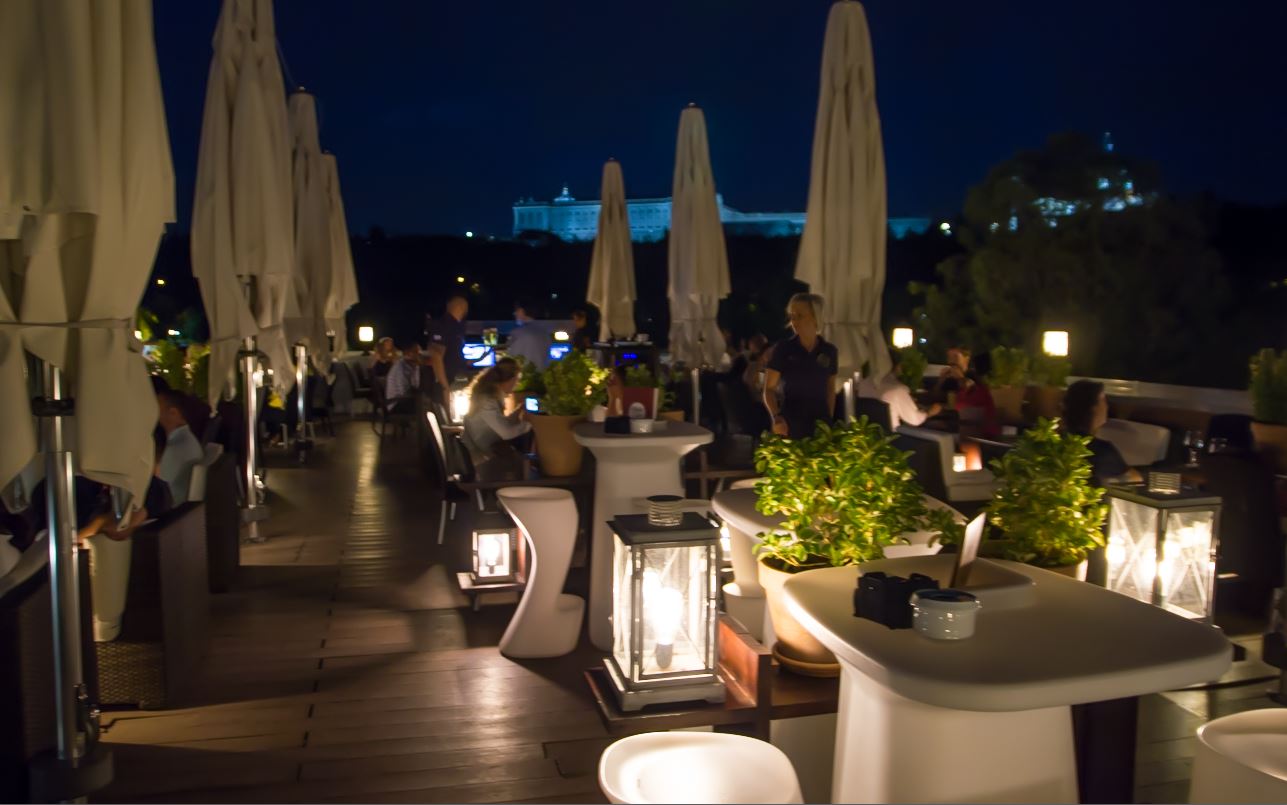 This terrace is by the River, between Puente de Segovia and Príncipe Pio. It has a varied menu, daytime set menu and cocktails at night. Your best bet would be to include it in an evening's walk by the river.
Magnificent views of the Palacio Real and the Alumdena Catedral.
Prices: Hamburger €11 Red tuna tartar €16.
Map of the rooftop terraces in Madrid
Here you can find a map pointing out where all these rooftop terraces are, so you don't miss out.