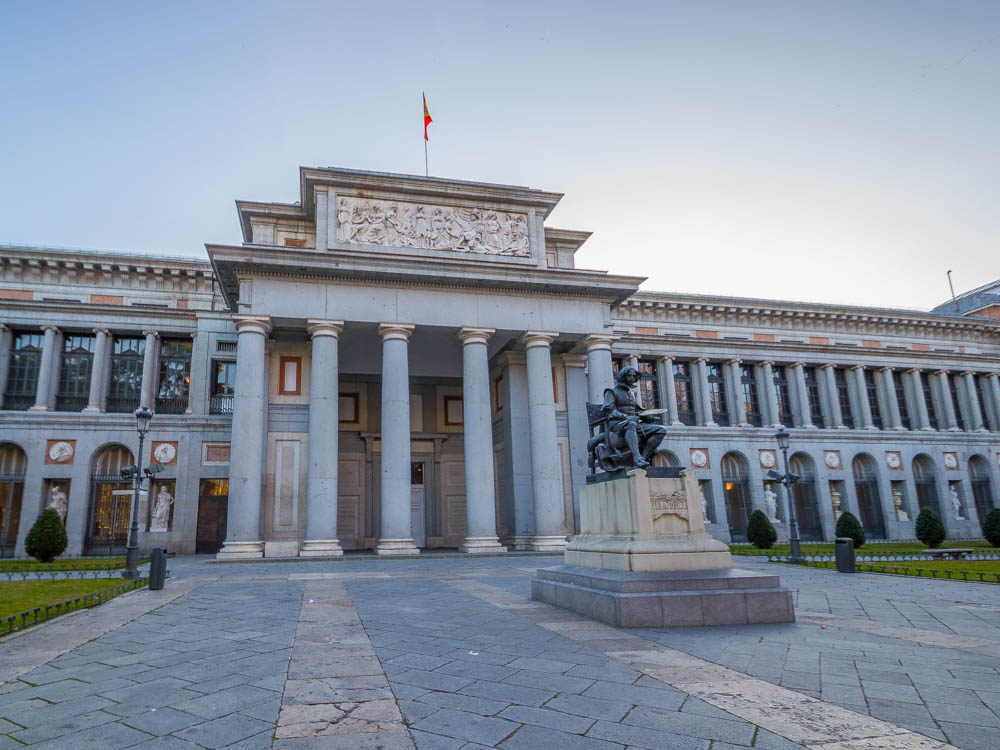 Madrid has countless museums to enjoy, we have prepare here a selection of the most visited ones, the ones that you can not miss if you want to learn about the Spanish art and history.
Prado Museum
Prado museum is one of the most important art museums in the world with a collection of more than 8000 paintings and sculptures. Its collection covers periods from 12th century to the early 20th century. It houses the most important collection in the world of works by Velázquez, Goya and Rubens.
It includes masterpieces like:
El Descendimiento by Roger van de Weyden
El Jardín de las Delicias by El Bosco
El caballero de la mano en el pecho by El Greco
Las Meninas by Velázquez
Los fusilamientos by Goya.
👌 We offer private tours in the Prado Museum
Online Gallery: Access online to approximately 1000 works of the Museum's collection
Price: 15€
Free entrance: From Mondays to Saturdays 6pm-8pm, Sundays and public holidays 5pm-7pm
Opening hours: From Mondays to Saturdays 10am-8pm, Saturdays and public holidays 10am-7pm.
Address: Paseo del Prado s/n, Madrid
Public transport: Metro Banco de España and Atocha
Reina Sofia Museum
Reina Sofía Museum includes works that were created between late 19th century and the 21th century. There are more than 20.000 works that accommodate different artistic techniques (engravings, paintings, films, decorative arts…). There are around 5% works on display by Picasso, Miró, Dalí, Juan Gris, Delaunay, Braque, Yves Klein, Motherwell, Bacon, Richard Serra, Calder, Magritte, Gerard Richter, Muntadas, Pistoletto, Sol Lewitt and Marcel Broodthaers.
Web of the Reina Sofía Museum. Check the Online Gallery, visitors are invited to create their own routes and form their own interpretations
Price: 6€
Free entrance: Monday to Friday 7pm to 9pm, Saturday 2:30pm to 9pm 14:30 a 21:00, Sunday from 10am to 7pm
Opening hours: From Mondays to Saturdays 10am-9pm, Sundays 10am-7pm. Between 2:30pm and 7pm it is possible to visit only Collection 1 and Collection 2.
Tuesdays: closed
Address: Calle Santa Isabel 52, Madrid
Public transport: Cercanias Atocha, Metro Atocha, Metro Lavapiés
Thyssen-Bornemisza Museum
Thyssen-Bornemisza Museum gives an opportunity to travel from the 13th century to the 20th century. There are around 1000 works exposed in this museum that include different periods and schools like Renaissance, Mannerism, Baroque, Rococo, Romanticism and the art of 19th-20th centuries till Pop Art. It also features works from modern art movements that are not included in other collections like Impressionism, Fauvism, German expressionalism and experimental Vanguardism of the early 20th century. It is also worth to note the collection of North American paintings of 19th century that is the only one in the European museum.
The website of Thyssen-Bornemisza Museum
Price: 9€
Free entrance: On Mondays 12am-4pm.
Working hours: On Mondays 12:00-16:00, on Tuesdays and Sundays: 10:00-7pm
Address: Palacio de Villahermosa, Paseo del Prado 8, Madrid.
Public Transport: Metro Banco de España
Other Museums in Madrid
Museo Cerralbo
Museo del Romanticismo
Museo Sorolla
Museo del Ferrocarril
Museo de Cera
Espacio Fundación Telefónica
Sala de Exposiciones Fundación Mapfre
Caixa Forum
Casa Museo Lope de Vega
Museo de Historia de Madrid
Real Academia de Bellas Artes de San Fernando
Biblioteca Nacional
Museo Casa de la Moneda