Even though there are many swimming pools in Madrid, there aren't that many natural ones. One of the most popular places for Madrid people is the Natural pools Las Presillas that is situated in Rascafria.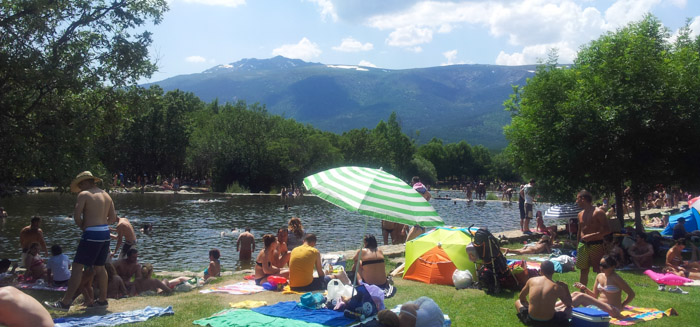 Just like its Spanish name describes it, it is a place of many small dams that impound water from the stream of small river. This water comes down from Cuerda Larga Mountains, from its frozen part and that's why the water is not hot. These pictures were taken in the middle of July and you needed to have courage to enter the water.
There is a lawn on one side of the river and pinewood on another side. In the lawn area it is prohibited to bring chairs (it is something that is constantly reminded through megaphone). There are also toilets and a snack bar.
Access and location map
These swimming pools are close to the town called Rascafría and Monastery of El Paular. There is a parking lot that costs 5€ a day to have your car parked there. There is also an option to park your car next to Monastery of El Paular and walk from there through oaks, crossing Perdón Bridge.
Other places of natural pools in Madrid
Pantano de San Juan: the only reservoir where swimming is permitted.
La charca verde: There is a natural pool of a river where you can leave your towel on the rock and take a dip in water. It is situated in Perdiza, small site.
La Poza de las Dehesas, in cercedilla: there is a fee for the entrance in exchange of amenities in the pool of the city.
Hiking trail Cascadas del Purgatorio
From these swimming pools we can have a walk on foot till Cascadas del Purgatorio. Going there and coming back is around 11km.