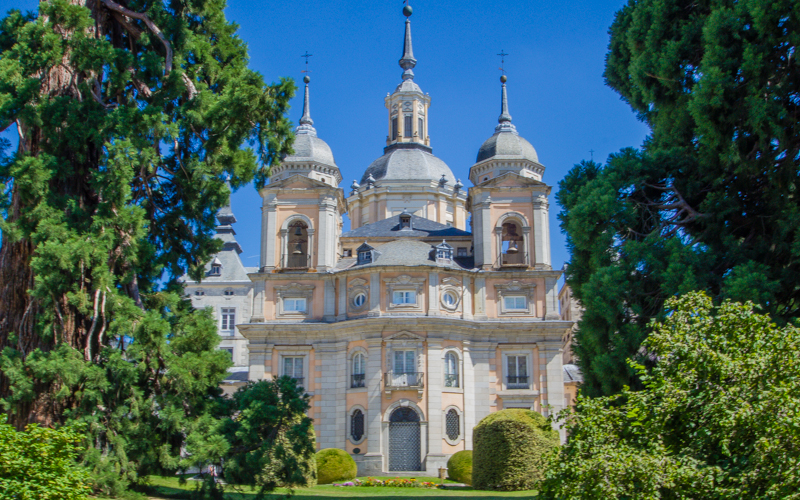 The Royal Palace of la Granja de San Ildefonso is located in the province of Segovia. It was built in 1721 in the name of Philip V of Spain, who had a fondness of French-style palaces, which were very different to the old Alcázar. Since it was built, it's been the summer residence of various Spanish kings and queens.
The fountains of La Granja de San Ildefonso
We recommend visiting these fountains as one of our summer days out from Madrid, as Segovia is pretty close.
The gardens of the Rel Sitio de Segovia have a number of spectacular fountains with themes from mythology: The Fountain of Apollo, The Fountain of Neptune, The Fountain of Andromeda, The Fountain of Waterfalls, The Fountain of the Three Graces, The Eight-Fountain Square, The Fountain of the Jungle, The Fountain of the Winds. The list goes on.
The fountains are bronze-coloured, but have been painted thay way. They're actually made of lead to get a longer resistance.
The water is distributed from a reservoir, and functions solely with the power of gravity. It's been working this way since the 18th century, and some of the water from the fountains can get up to 40 metres high.
Useful information
The fountains are not always on; in summer, four of them are switched on on certain alternating days. The dates depend on the available water supply, so we recommend looking them up on the website of the Nacional Heritage, where you can also find out information about prices and times.
Every May 30, July 25, and August 25, all of fountains are turned on at 5:30 pm.
If you're making the trip from Madrid, it could also be worth your while to visit Segovia, its aqueduct, royal palace, cathedral, walls…not to forget eating a lovely cochinillo ("suckling pig") or Judiones de la Granja.
Map of the fountains in La Granja de San Ildefonso

View Real Sitio de la Granja de San Ildefonso in a larger map