The Palace of Comunications, also know as Cibeles Palace, is a beautiful building that is often used as the symbol of the city of Madrid. The building is nowadays the City-Hall and a cultural center where you can visit different exhibitions.
It is located in the Prado Boulevard, surrounded by many other monuments. If you are visiting Madrid, a stroll in this area is a must.
History of the Palace of Comunications
In 1904 a public contest was open for the execution of the building, the purpose of this public space was to be a place for the telephone, the telegraph and the post. The winners of the contest where two young architects that had just finished college, Antonio Palacios and Joaquín Otamendi.
It was first opened in 1919 and the building was built in the Retiro Park (as at that time its extension was much bigger) and that was one of the controversies of the project, as well as the style an the excessive height.
It's an eclectic building, with neogothic and modernist features as well as renaissance and baroque reminiscences. It was nicknamed the 'Cathedral of Communications'.
Inside of the Palace
De decorations inside are just as impressive as the ones outside, in the entrance we find monumental marble stairs, then the most noteworthy is the iron and glass structure of the superior floors, that allows natural light to spread all over in the interior. Stained glass in the ceiling, ceramics in the staircases, mythological representations (like the god Hermes, messenger of the goods, represented with wings on his head), etc.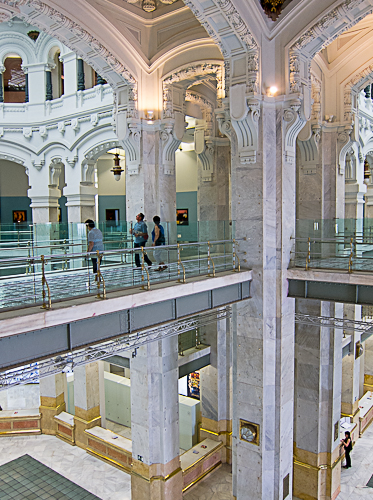 The panoramic views from the rooftop
Once inside of the building go to the front-desk and ask for the next visit to the rooftop, it's only 3€ and you'll get great views. More info in their website.
If you like to see the cities from high viewpoints, you should have a look to our post about rooftops that you can visit in Madrid.