Madrid is the capital city of Spain with many monuments, impressive architecture and deep history which leaves no doubt that it is worth a visit. In this post I will try to answer one important questions for travellers: how to do it as cheap as possible?
Getting to Madrid
Madrid is connected to other European countries by cheap flight companies like ryanair, vueling, easyjet and wizzair which makes it cheaper to get to Madrid. Adolfo Suárez Madrid-Barajas (till 2014 it was called Madrid-Barajas) airport is the 4th largest in Europe and 12th largest in the world based on the number of travellers. It has 4 terminals.
Transportation in Madrid
It is not hard to access Madrid centre from the Adolfo Suárez Madrid-Barajas airport since the distance is only 12-13km so there is a lot to choose from. The transportation system in Madrid is very developed. It is easy to access every part of the city by public transportation. Madrid offers a possibility to use buses, metro, night buses and suburban trains (cercanias). If you want to tour Madrid as a tourist, most probably you will only make trips in zone A.
Single ticket costs €1.50 in both metro and bus (depending on how far you go it can be even more). There is also an availability to buy 10 trips ticket which you can use in both buses and metro and it costs €12.20, which can save a little of your money.
From/to the airport: More info about transportation in and around Madrid
Madrid Card costs €45-€75 depending on the number of days (from 1 to 4). It gives a priority access to various museums, gives discounts and it can be combined with the transport.
Food
In most of the cases the cheapest way to eat in any country is to make your own food and buy ingredients in the supermarket. The prices of goods differ significantly in different Spanish supermarkets so it's important to know where to go for shopping. The cheapest ones and the most popular ones are considered:
Mercadona. Best quality considering the price even though choices there are limited since there is no wide variety of brands.
Carrefour. If we compare it to Mercadona, it has a good price and more choices.
Dia. Discount supermarkets where you can buy cheap goods.
Eroski is a medium price supermarket, many different products and more products to choose from.
The most expensive supermarkets are considered to be El Corte Ingles and Hipercor.
If you eat outside, this would be useful:
The bill please = La cuenta por favor
Tap water = Agua del grifo. Tap water in Madrid is excellent, and you don't need to buy water bottles.
Fixed menu = Menu del día
Accommodation
There are many people who wish to teach English to their children (or practise themselves), so they might be willing to exchange it for the accommodation. Of course, there are many hotels and hostels to choose from but there is also the possibility to use couchsurfing, which is a great way to meet new people and spend less.
Cheap things to do in Madrid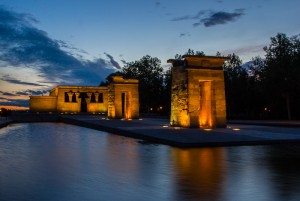 Boating in El Retiro park can be one of the options if you want a nice and relaxing experience in the nature.
Watching sunset in Debod temple can give you some unique feelings considering that it is an Egyptian temple which was preserved for ages.
Some museums offer a possibility to visit it for free at certain and limited times:
Reina Sofia Museum: 7pm-9pm on from Monday to Friday (except for Tuesdays) Saturday from 2.30pm and Sunday until 2.30pm.
Museo del Prado: 6pm-8pm from Monday to Saturday; 5pm-8pm on Sundays.
Madrid's Royal Palace: Wednesdays.
Thyssen-Bornemisza Museum: 12pm-4pm on Mondays.
Many museums are free on the following days: April 18, May 18, October 12, December 6 due to national celebrations.
Having a calamar sandwitch in Plaza Mayor not only helps you to get to know more about Madrid traditions but also to eat deliciously.
Renting public bikes can save your money which you would use for public transportation and make an enjoyable trip on your own. Price without annual ticket: The first 30 minutos cost 2€, the next 30 minutes cost 4€.
Going to flea market "El Rastro" can help you buy cheap things because it is full of bargains, just look well, because in some areas (it's a huge market) the stands have more touristy souvenirs than really second hand stuff. Walking around on foot in the centre of Madrid also gives unforgettable and enjoyable experiences since it is has a beautiful old town with many monuments next to each other!
ISIC Discount
Travelling students should bring their ISIC cards along with them since they can find some discounts in Spain. Some bus companies like ALSA offer discounts to people who have ISIC, as well as some museums, food services and even accommodation. More information here.
I hope those tips were useful for you and it will be helpful while planning an unforgettable journey in Madrid!